Families
CBES Family Science Night and Science Fair
Each year in the Spring, Camellia Basic Elementary School holds an annual 'Family Science Night' and Grades 4-6 Science Fair conjointly. The intent of this event is to give all CBES students the opportunity to experience hands-on science and create some science of their own. Thank you to our Science Fair coordinators, judges, support staff, and families for making this event a huge success!
CBES Tree Planting Day
CBES students, staff, family volunteers, and STF staff gathered together on March 24th to plant several trees on campus. The trees will provide much needed shade. Each classroom will adopt a tree to name and serve as guardians.
Cougar Basketball Team
The Cougar Basketball Team gave a strong effort in every game. Our players never give up during the game and continue to give their all! Their dedication is undeniable! Keep up the hard work, Cougars!
ASES Chopped Challenge 2023
Congrats to our students who represented Camellia Basic during the SCUSD Hiram Johnson Feeder Pattern Chopped Challenge. It is a cooking competition where students are divided up into a Primary and Intermediate division competing against other schools, Phoebe Hearst, Peter Burnett, Nicolas, Pacific, Caleb Greenwood, and Camellia. Every school had a different country with ours being Turkey.
Camellia placed 1st for Primary (returning champion), and Intermediate placed 2nd. We are so proud of our Cougars, the Team Leaders, Cayleigh and Karen, who helped them, AND the teachers who taste test, Mrs. Pham and Mr. Fadum.
January 2023: Lunar New Year Celebration!
We kicked off 2023 by celebrating our Annual Lunar New Year with students, staff, and Camellia families on January 27th! It was such a joy seeing our community come together as we welcome the Year of the Rabbit! PTSO also hosted a very successful bamboo plants sell! Thank you to everyone who participated in our Lunar New Year Parade and bamboo plant fundraiser! Celebrating the Lunar New Year was a great opportunity for our Cougars and families to foster global understanding and learn about other cultures.

December 2022: Wee Bazaar & Schoolwide Holiday Sing-Along
Our Cougars participated in a schoolwide old-fashioned holiday "Sing Along". It was very informal and a lot of fun!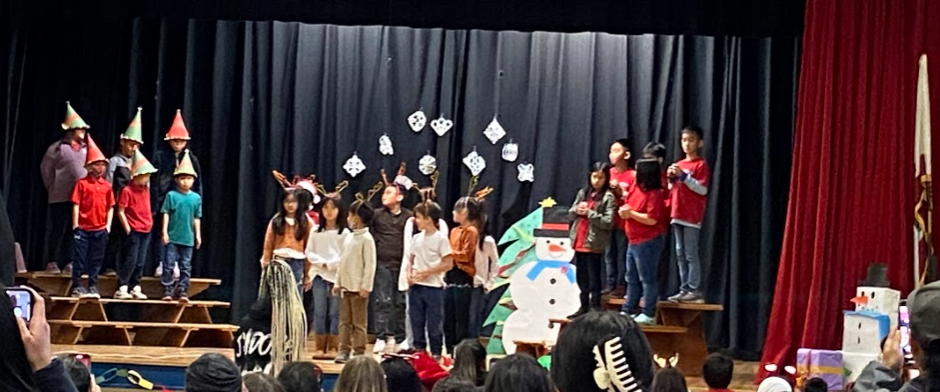 Wee Bazaar was held on the last week before Winter break. The purpose of this project was to have fun making crafts and promote sales at the Wee Bazaar- hoping students would want to buy what they made for their families.
November 2022: Hmong New Year
CBES celebrated Hmong New Year with presentations from HUSA (Hmong University Student Association from CSUS) and renown dancer Kazoua Yang.
October 2022: Harvest Carnival, Halloween Parade, & Red Ribbon Week
October was a busy month for Camellia! CBES prepared three fun-filled events for our staff, students and families! Our annual Harvest Festival was held on Friday, October 28, 2022 at 2:00pm and the annual Halloween Parade was held on Monday, October 31, 2022 at 9:30am.
Students and staff kicked off Red Ribbon Week by participating in daily spirit wear. Red Ribbon Week is to celebrate alcohol, tobacco and other drug violence prevention awareness.