At Home COVID Tests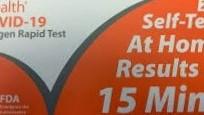 Dear Camellia Families,
Your child will bring home an At Home COVID testing kit between April 6-8, 2022. The test should be used on Sunday, April 17, before returning to school/work on Monday morning, and report the results in Primary.Health.
Please read the instruction flyer provided by clicking on link. There are flyers in English, Chinese, Hmong, Spanish, and Vietnamese.
Stay safe, Stay well.
Ms. McKelvey